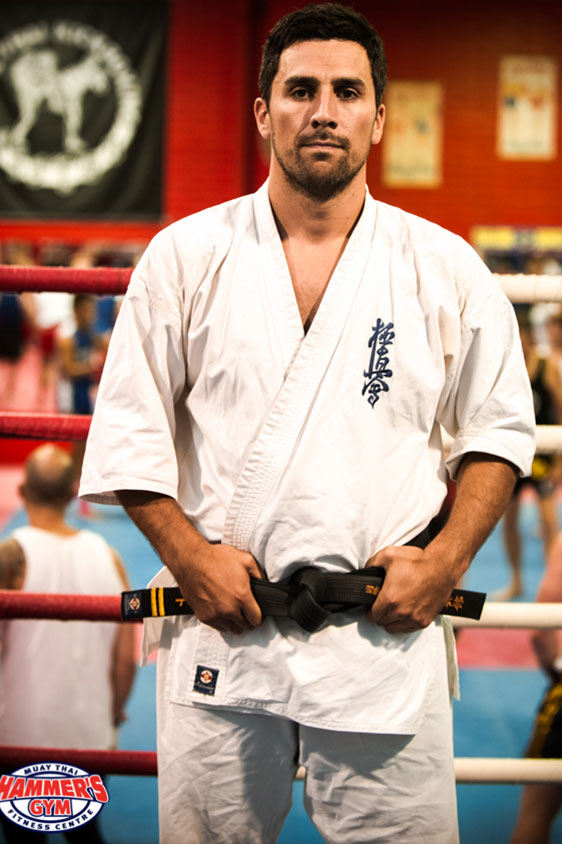 Senpai Pat Pinto is the Kyokushin Karate Head Instructor at Hammers Gym via Budo Kyokushin Karate Australia.
Pat holds a Nidan ( 2nd Dan Black Belt) under Shihan Bill Poly (6th Dan) through the All Japan Kyokushin Union.
Entering his 15th year in the arts, Patrick was numerous times State (06,09,14) and National (08,11) Full Contact Karate Champion in Middleweight within various Kyokushin groups tournaments ( Union, AKKA, ShinKyokushin).
Also representing Australia in 2x World Tournaments (2008 Okinawa, 2012 Toyoma) and 1 World Cup (2009 Osaka).
Senpai within his Full Contact career has been in
the Top 3 on multiple occasions:
Nationals – 2nd 2010, 3rd 2009
State Titles – 2nd 2007, 2013
Arnold Classic – 3rd 2015
Having accomplished his Shodan (1st Dan Black Belt) in October 2006 after completing a 6hr grading including 40x 90sec Full Contact rounds, Pat was the Head Instructor for Shihan Bill Poly's dojo in Doncaster from 2007 – 2012.
Moving across to Hammers Gym Mid 2012, Pat was awarded his Nidan (2nd Dan Black Belt) again after a gruelling 5 hr grading. Shihan Bill due to work commitments was positioned in Sth China early 2013, with Pat being acknowledge full responsibility of the dojo.
2015, Shihan handed over the reigns as Dojo operator to Pat at the new Hammers Gym facility, where his focus and attention has been towards retention and improving the next generation. "Your are not the average person if you wish to learn Kyokushin. Discipline, hard work, loyal, punctual, motivated are some of the key ingredients to be successful on the journey. A black belt is a white belt that never gave up, we want to push you to a limit that can only be done in a controlled environment and mentor you to become a leader and ambassador of Kyokushin – once you're in, you are a part of the family, the fabric".
2016, Kyokushin classes at Hammers avg 15-20 students per class ( Mon, Wed, Sat). Our goal is to advance everyone not only on the mat but to uphold spiritually, morally, physically the true meaning of the Kyokushin Way of the mat also, you need to be a part of it to understand.
We look forward to having you train with us. You won't regret it.
Osu!