We pride ourselves on providing diverse training options with over 58 classes for our members to achieve their goals without ever getting tired of the same old routine.
With 10 different training zones we have the space to support your fitness endeavours whatever they may be.
See below to see which area best suites you!
Gym floor
Stacked with state of the art equipment that is all professionally recommended. All equipment has been specifically chosen to ensure all muscle groups can be targeted. Many different cardio machines to burn fat fast + more!
Cardio & Stretch Zone
Upstairs stretch room with matted flooring to spread out on. Dedicated cardio machines including rowers, cross trainers and stationary bikes for intense workouts.

Boxing Ring
Feel and train like a pro in our full sized professional boxing ring.
Boxing area
Spacious matted boxing area equipped with over 20 boxing bags plus a speedball, floor to ceiling and wall mounted target bag.
Functional fitness/Lifting area
Our second zone dedicated to weight lifting and functional strength. Competition bench press, deadlift platform and squat racks. Astroturf has been laid for our battle ropes and sled. Boost your cardio with our milling machines, SkiErg, assault bikes and rowers or level up your arm day with our monkey bars, endless rope machine, arm bike and more!

Muay Thai Training Area
Large matted Muay Thai training room with 10 full sized heavy bags and mirrors to view your technique. An abundance of boxing focus mits, Thai pads and large kick pads for any training drills.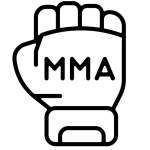 MMA cage
Feel like a UFC fighter and train in our free standing professional MMA cage equipped with padded flooring and wire cage walls to practice your skills and technique.
Brazilian Jiu Jitsu Zone
Zone dedicated to Brazilian Jiu Jitsu, Mixed Martial Arts and Wrestling. Enclosed with cage walls for specialised MMA drilling and training.

Yoga, Spin & Body Pump Room
A totally separate sound proof room dedicated to our structured holistic classes. Large floor to ceiling wall décor of rolling hillsides to inspire stillness and promote peace.

Specialist Karate Dojo
Dojo for kids and adult classes. Large matted space with plenty of karate based training equipment.